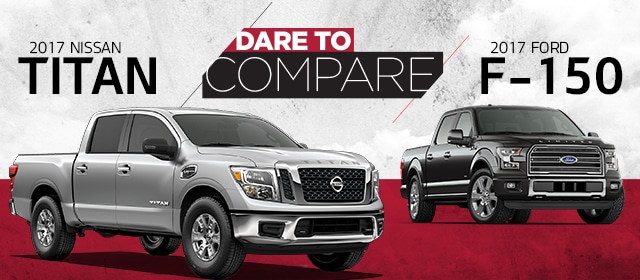 While the Ford F-150 is currently the most popular pickup truck in America in terms of sales, the redesigned 2017 Nissan Titan can easily give it a run for its money. We'll compare the two models to show you why the Titan is a worthy F-150 opponent worth considering.
For starters, if you're a buyer looking for power, you need to choose the Titan. It comes standard with a 390-hoserpower 5.6-liter V-8 engine, while the F-150 comes with a 5.0-liter DOHC V-8. The Titan offers a bit more power while topping the charts at 390-horsepower and 394 lb.-ft. of torque. The Titan is equipped with a 7-speed automatic transmission and the F-150 is equipped with a 6-speed automatic transmission.
If you're driving for the long haul, you'll want to be in the Titan. The F-150 may be more efficient on the highway with an EPA-estimated 23 mpg, but the Titan isn't far behind with an estimated 21 mpg. However, the Titan comes with a larger 26-gallon fuel tank, meaning you drive up to 546 miles between fill-ups. You'll have to stop after 529 miles in the F-150.
The Titan performs better when it comes to braking while towing. To prove it, we tested both trucks by having them accelerate up to 60 mph while towing 8,900 lb. trailers. The Titan stopped in 198 feet while it took the F-150 225 ft. to stop. Nissan also tested the acceleration of both trucks. The Titan came out on top again. It made it from 0-60 mph quicker and also had a better quarter mile time. The Titan also consistently tested better than the F-150 when put on challenging tracks full of various twists and turns.
The Titan comes with numerous features that you might not think about needing, but once you have them you realize how great they are. For example, the remote keyless entry works for all doors on the Titan, but only unlocks the front doors on the F-150. Another handy feature is a locking glove box-this comes standard on the Titan, but not on the F-150.
Backseat passengers in the Titan will be a bit more comfortable since they can enjoy armrests, reading lights, 38.5 inches of legroom, and 40.4 inches of headroom. These features are unavailable in the F-150 and the dimensions are all smaller, too.
Finally, price-wise, there is no competition. Buyers will save thousands of dollars when they choose the 2017 Nissan Titan and will get a much bigger bang for their buck. If you're still trying to decide which truck is best for you, stop by our dealership near Jackson! We'd be happy to answer any remaining questions you may have. We'd also be happy to take you out on a test drive! Although we don't carry new F-150s on our lot, we are sure to have a few pre-owned trucks in inventory for you to stop by and take a look at.