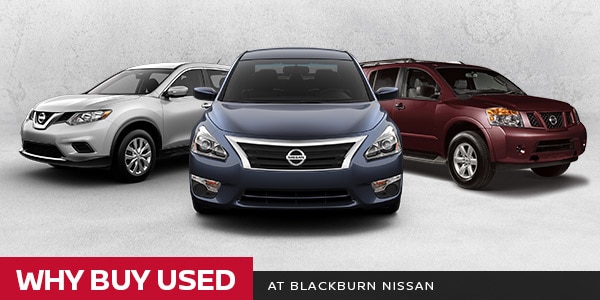 If you are in the market for a car, it's easy to say that you want a new car. After all, it is nice to know that you are the car's first owner and the new car smell is definitely alluring. Have you considered buyinga used one instead? Chances are, you can find a great deal on a late model used car at our dealership in Vicksburg. Here are some reasons why you should consider buying a pre-owned car, truck, or SUV from Blackburn Nissan.
Depreciation. Nothing hits harder than knowing that your new car drops about 47% of its original value in the first three years of ownership (depending on particular make/model). Once you drive your new car off of the lot, its value decreases significantly. If you buy a used car, you don't have to worry about a huge depreciation.
Insurance costs. Statistics show that it is typically less costly to insure a used vehicle than it is to insure a new one.
Reliability. A reliable vehicle is the ultimate catch and studies show that used vehicles are becoming more and more reliable. Studies show that on average, five-year-old vehicles in 2015 had far less problems than five-year-old vehicles in 2007. This is very promising if you are purchasing a used car in the near future! Not to mention that the service team at our dealership thoroughly inspects used cars before putting them out on the lot for sale. You can drive a used car home from Blackburn Nissan with peace of mind!
Safety. Late model used vehicles offer many of the great safety features that the new cars offer today. Anti-lock brakes, traction control, and side air bags have been standard equipment on cars for a number of years now.
Price. You will pay significantly less for a used car than you will for a new one. Dollar for dollar, a used car is always cheaper than a comparable new model. Although a used car has been driven by another owner or two, the team here at Blackburn Nissan has thoroughly inspected the vehicle to make sure that it is up to our standards. You will get a great car that you can depend on at an affordable price.
Selection. A new model is only new for a single model year. After that, a new version of the car will roll off the line and onto lots. That severely limits the selection for most drivers. If you purchase a used car, your options are endless. You can even look at models that are no longer manufactured. Buying used definitely has its advantages when it comes to selection.
If you are interested in learning more about purchasing a pre-owned vehicle, visit us at 2195 N. Frontage Road in Vicksburg, Mississippi. We have a great selection of used Nissan vehicles along with a huge selection of other reputable makes. Give us a call at (866) 905-9001 to schedule an appointment with one of our friendly team members today!